The National Coalition to Protect Civil Freedoms (NCPCF), a civil rights coalition made up of Muslim and non-Muslim advocacy groups formed last year to push back against the rapid erosion of civil freedoms in the United States, held their first annual banquet on April 15, 2012 in Northern Virginia.

The banquet, which had a strong attendance particularly from the Dar Al-Hijrah Muslim community, featured prominent civil rights activists including keynote speaker Glen Greenwald, an activist constitutional law attorney who is a widely read blogger and author, and former Army Chaplain at Guantanamo Bay James Yee.

Below are some photos from the fundraising banquet.



Banners on display at the NCPCF banquet, some advocating for particular Muslim prisoners caught up in what civil rights activists say is an overzealous government crackdown on 'homegrown terrorists'. A survey of 'home grown terrorism' convictions has shown that most successful government prosecutions involve paid informants of ill repute who work to entrap young American Muslims men in fake FBI concocted terror plots. Photos by Muslim Link.

---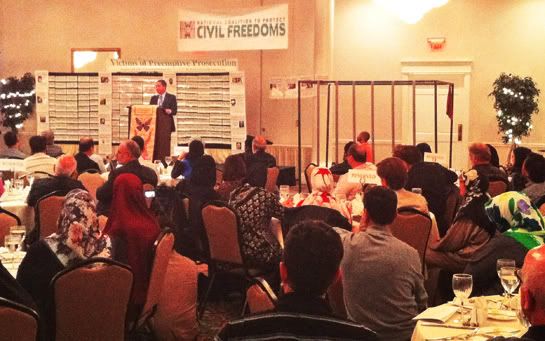 Glen Greenwald, author of "With Liberty and Justice for Some: How the Law Is Used to Destroy Equality and Protect the Powerful", addresses the audience while a volunteer (to the right) in an orange jumpsuit listens in a cage built to mimic Guantanamo cells. On the reasons most Americans are apathetic to the stunning loss of civil freedoms, he gave three main reasons: 1) The perception that the assault is on different people (Muslims) and not 'average' Americans; 2) Both Republicans and Democrats are engaged in illegal and oppressive civil rights violations; and 3) with a deep fear of 'terrorism' kept alive by the government, average Americans no longer believe in the maxim 'injustice anywhere is a threat to justice everywhere'.
---
Dr. Sami Al-Arian, still under house detention in Virginia for what supporters say was his outspokenness on behalf of Palestinians, addresses the audience via an internet connection.