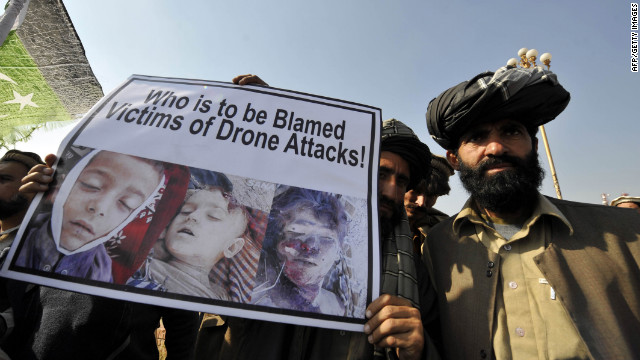 ---
On June 9, a U.S. drone fired on a vehicle in a remote province of Yemen and killed several militants, according to media reports [3].
It soon emerged that among those who died was a boy [4] – 10-year-old Abdulaziz, whose elder brother, Saleh Hassan Huraydan, was believed to be the target of the strike. A McClatchy reporter recently confirmed the child's death with locals. (Update: The London-based Bureau of Investigative Journalism today reported  [5]that there was "strong evidence" it was a U.S. drone strike, but it could not confirm the fact.)

It's the first prominent allegation of a civilian death since President Obama pledged [6] in a major speech in May "to facilitate transparency and debate" about the U.S. war on al Qaida-linked militants beyond Afghanistan. He also said "there must be near-certainty that no civilians will be killed or injured" in a strike.

So what does the administration have to say in response to evidence that a child was killed?

Nothing.

National security spokeswoman Caitlin Hayden would not comment on the June 9 strike or more generally on the White House position on acknowledging civilian deaths. She referred further questions to the CIA, which also declined to comment. 

The president's speech was the capstone on a shift in drone war policy that would reportedly bring the program largely under control of the military [7] (as opposed to the CIA) and impose stricter criteria on who could be targeted. In theory [8], it could also bring some of the classified program into the open. As part of its transparency effort, the administration released the names of four U.S. citizens [9] who had been killed in drone strikes.

An official White House fact sheet [10] on targeted killing released along with the speech repeated the "near-certainty" standard for avoiding civilian casualties. Secretary of State John Kerry reiterated it a few days later, when he told an audience in Ethiopia [11]: "We do not fire when we know there are children or collateral — we just don't do it."

But White House press secretary Jay Carney said [12] in late May that "this commitment to transparency…does not mean that we would be able to discuss the details of every counterterrorism operation."

The new White House statements don't address what happens after a strike, even in general terms.

CIA Director John Brennan offered one of the few public explanations of how casualties are assessed during his nomination hearing in February. Before his confirmation, Brennan was the White House counterterrorism adviser, and is considered [13] to be the architect [14] of Obama's drone war policy.

He told senators [15] that, "analysts draw on a large body of information — human intelligence, signals intelligence, media reports, and surveillance footage — to help us make an informed determination about whether civilians were in fact killed or injured."

Brennan also said the U.S. could work with local governments to offer condolence payments. As we've reported [16], there's little visible evidence of that happening.

At the hearing, Sen. Ron Wyden, D-Ore., asked Brennan if the U.S. should acknowledge when it "makes a mistake and kills the wrong person."

"We need to acknowledge it publicly," Brennan responded [17]. Brennan also proposed [18] that the government make public "the overall numbers of civilian deaths resulting from U.S. strikes."

Neither overall numbers nor a policy of acknowledging casualties made it into Obama's speech, or into the fact sheet. Hayden, the White House spokeswoman, would not say why.

The government sharply disputes that there have been large numbers of civilian deaths but has never released its own figures. Independent counts, largely compiled from news reports, range from about 200 [19] to around 1,000 [20] for Pakistan, Yemen and Somalia combined over the past decade.

Researchers agree [21] that the number of drone strikes and civilian deaths have dropped during the past year. (Before Obama's speech, an administration official attributed [7] this partly to the new heightened standards.) The London-based Bureau of Investigative Journalism, which generally has the highest tally of civilian dead, has found [22] there were between three and 16 civilians reportedly killed in about 30 drone or other airstrikes in Yemen and Pakistan so far this year. No strikes have been reported in Somalia.

"Official" statistics might not be much help without knowing more about how they were compiled, said Sarah Holewinski, head of the advocacy group Center for Civilians in Conflict.

That's because it's still not clear how the U.S. distinguishes between civilians and "militants," or "combatants."

In so-called signature strikes [23], operators sometimes fire on groups of people who appear to be engaged in militant activity without necessarily knowing their identities. The newly instituted drone rules reportedly roll back the military's ability to use signature strikes, but the CIA can keep firing in Pakistan [24] under the old rules at least through the end of the year [24].

An administration official told ProPublica [25] last year that when a strike is made, "if a group of fighting-age males are in a home where we know they are constructing explosives or plotting an attack, it's assumed that all of them are in on that effort."

The new White House fact sheet [10] contradicts that, stating: "It is not the case that all military-aged males in the vicinity of a target are deemed to be combatants."

From the outside, in a strike like the recent one in Yemen, it's impossible to know how these things were determined.  McClatchy reported that the target, Saleh Hassan Huraydan, had "largely unquestioned" ties to al Qaida. Yemeni officials said he arranged to bring money and fighters from Saudi Arabia to Yemen. 

As for Huraydan's young brother, "They may not have realized who was in the car. Or they may have realized it and decided collateral damage was okay," Holewinski says.

The same questions dog the death of another boy [26] that the administration has acknowledged: the 16-year-old son of Anwar al-Awlaki, a U.S.-born cleric tied to terror attacks. Awlaki and his son were killed in separate strikes [27] in Yemen in the fall of 2011. The boy, Attorney General Eric Holder has said [9], was "not specifically targeted."


Source URL: http://www.alternet.org/world/us-has-nothing-say-about-10-year-old-killed-drone-strike

Links:

[1] http://www.propublica.org/
[2] http://www.alternet.org/authors/cora-currier
[3] http://www.thebureauinvestigates.com/2012/07/02/latest-strike-january-10-2012/
[4] http://www.mcclatchydc.com/2013/06/20/194542/boys-death-highlights-anger-some.html#.Ucxjr_nU-84
[5] http://www.thebureauinvestigates.com/2013/07/01/six-month-update-us-covert-actions-in-pakistan-yemen-and-somalia/
[6] http://www.whitehouse.gov/the-press-office/2013/05/23/remarks-president-national-defense-university
[7] http://www.whitehouse.gov/the-press-office/2013/05/23/background-briefing-senior-administration-officials-presidents-speech-co
[8] http://www.politico.com/blogs/under-the-radar/2013/06/feds-wont-budge-on-public-access-to-drone-legal-memos-166428.html
[9] http://www.nytimes.com/interactive/2013/05/23/us/politics/23holder-drone-lettter.html
[10] http://www.whitehouse.gov/the-press-office/2013/05/23/fact-sheet-us-policy-standards-and-procedures-use-force-counterterrorism
[11] http://www.state.gov/secretary/remarks/2013/05/210012.htm
[12] http://www.whitehouse.gov/the-press-office/2013/05/29/press-briefing-press-secretary-jay-carney-5292013
[13] http://articles.washingtonpost.com/2012-10-24/world/35499428_1_drone-strikes-brennan-obama-administration
[14] http://www.thedailybeast.com/articles/2012/11/22/who-is-john-brennan-the-man-touted-to-be-the-next-cia-director.html
[15] http://www.propublica.org/documents/item/627432-brennan-post-hearing-questions#document/p2/a98456
[16] http://www.propublica.org/article/hearts-minds-and-dollars-condolence-payments-in-the-drone-strike-age
[17] http://www.propublica.org/documents/item/627434-transcript-of-brennan-hearing.html#document/p58/a96858
[18] http://www.propublica.org/documents/item/627432-brennan-post-hearing-questions#document/p2/a107462
[19] http://www.longwarjournal.org/
[20] http://www.thebureauinvestigates.com/category/projects/drone-data/
[21] http://edition.cnn.com/2013/05/22/opinion/bergen-nine-myths-drones-gitmo/index.html?iref=allsearch
[22] http://www.thebureauinvestigates.com/2013/01/03/obama-2013-pakistan-drone-strikes/
[23] http://www.propublica.org/article/drone-war-doctrine-we-know-nothing-about
[24] http://articles.washingtonpost.com/2013-01-19/world/36474007_1_drone-strikes-cia-director-playbook/2
[25] http://www.propublica.org/article/dissecting-obamas-standard-on-drone-strike-deaths
[26] http://www.thenation.com/article/173980/inside-americas-dirty-wars?page=full#axzz2XWhjmlFa
[27] http://www.nytimes.com/2013/03/10/world/middleeast/anwar-al-awlaki-a-us-citizen-in-americas-cross-hairs.html